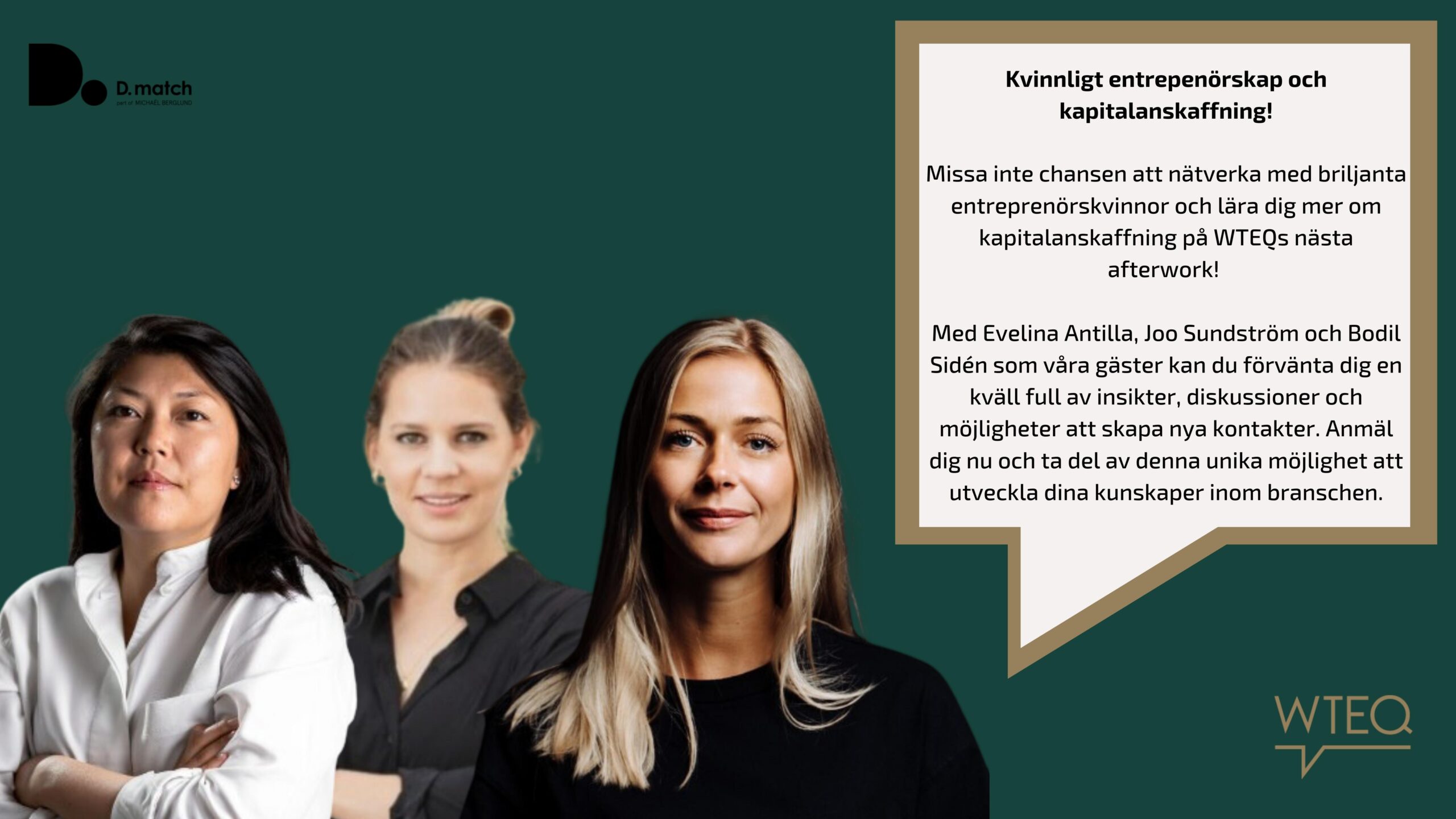 Kvinnligt entrepenörskap och kapitalanskaffning!
Vi välkomnar dig till en inspirerande och givande afterwork hos oss på Strandvägen 5B i Stockholm. Kvällen till ära är vi stolta över att kunna gästas av Evelina Antilla, Joo Sundström samt Bodil Sidén. Tre fantatsiska kvinnor som besitter mycket kunskap kring kapitalanskaffning. Under kvällen kommer vi få insyn i branschen men även få möjlighet för att mingla, diskutera och lyssna! Detta event är för alla som finner kvinnligt entreprenörskap samt kapitalanskaffning intressant.
Inspiratör:
Evelina Anttila – Managing Partner Wellstreet och Co-funder of Justic
Joo Sundström – CEO and Founder Vera Invest
Bodil Sidén – Partner Blq Invest
Eventet börjar kl 18 med mingel från kl 17:30 där det bjuds på bubbel och goda snittar!
Afterworken kräver anmälan, fyll i nedanstående formulär för att säkra din plats på evenemanget.
Kom som du är eller ta med en vän, och anmäl dig (er) i formuläret längre ner på sidan. 
Begränsat antal platser, först till kvarn!
Fyll i informationen nedan för att registrera dig till eventet.
POLICY ON HANDLING OF INFORMATION
As a recruitment and staffing company, we collect information and data about you as a candidate. We handle all information and data in a safe and secure way to protect your integrity. Our working processes and IT-support systems are developed to comply with and strictly follow the requirements of the General Data Protection Regulation (GDPR). Please read more in Dmatch Privacy Policy.